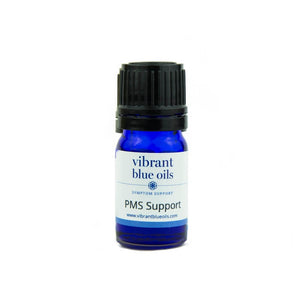 PMS SUPPORT™ BENEFITS:  Alleviates pre-menstrual discomforts, reduces bloating and helps with relaxation and depression.
PMS SUPPORT™ INDICATIONS:  Premenstrual cramping and pain can be debilitating, forcing us to forgo work, family time and other activities just to survive that time of the month.  PMS Support™ is formulated to assist in balancing hormones alleviating pre-menstrual and menstrual cramps, discomfort and other associated problems.
HOW TO USE PMS SUPPORT™: Designed for aromatic and topical use. If using topically, we recommend massaging 2 -3 drops across lower back, lower abdomen and around ankles. Apply with a hot com-press to areas of discomfort. Always test on a nickel sized portion of skin first. Make sure your skin can handle the oil/blend before using. Dilute to start or if any redness occurs. For Aromatic Usage, hold the bottle under nose for 3 or 4 breaths.
WHEN TO USE PMS SUPPORT™:  To aid with any pain or cramping, apply 2- 3 times daily or as needed.
PMS SUPPORT™ INGREDIENTS:  Vibrant Blue Oils Symptom PMS Support™ blend contains a proprietary formulation of organic and/or wild crafted essential oils of Vetiver, Clary Sage, Petitgrain, Sandalwood, Neroli, Bergamot, and Geranium in a base of fractionated coconut oil.
These statements have not been evaluated by the Food and Drug Administration. This product is not intended to diagnose, treat, cure or prevent any disease.
*You will be redirected to a third party website to make your purchase, but proceeds from your purchase still benefit the Who Is Carter Foundation.  Enter code BRAINPOSSIBLE10 at checkout for $10 off your order!