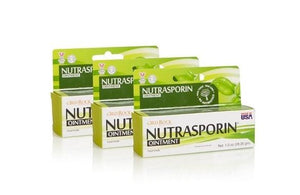 Not to be confused with Neosporin®!
All Natural First Aid Ointment NUTRASPORIN®. Patented silver formulation ointment that prevents and eliminates irritation. Non-antibiotic first aid ointment that soothes rashes, skin irritations and sores.

Non-toxic (toxin free) and petroleum/oil free, with all natural, food grade ingredients only - safe for all ages. More effective than antibiotic ointment based treatments.

PETA/Leaping Bunny approved - neither the product nor any of the ingredients tested on animals. Nutrasporin® is a non-toxic (toxin free) and petroleum-free first-aid ointment that we believe is the best all-purpose medicine for cuts, scrapes, rashes, infections, bites, and skin irritations. This amazing product also relieves stings, burns, urinary tract infections (UTIs), sore throats, and even cold sores in record time! 

Like all the 3rd Rock products, Nutrasporin® silver ointment is organic and made of food-grade, edible ingredients. If you live in North America, then you are used to seeing Neosporin® or triple antibiotic ointment in every first aid kit. It's applied as a standard procedure on cuts and scrapes – even though there is confirmed evidence that it breeds resistance against the MRSA superbug.

The secret behind Nutrasporin®'s chelated silver oxide? Bacteria (plus mold and mildew) need three things to grow: water, food, and a substrate (a surface to which microbes can attach themselves). If one of these components isn't present, bacteria can no longer thrive. Silver oxide makes the substrate "go away," thereby eliminating the possibility of bad bacteria proliferating without upsetting the ones that maintain your immune system. 
  *You will be redirected to a third party website to make your purchase, but proceeds from your purchase still benefit the Who Is Carter Foundation.