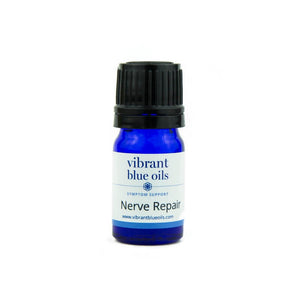 NERVE REPAIR™ BENEFITS:   Repairs damaged nerves, relieves pain, fights infection, stimulates circulation, ease inflammation, swelling, helps regenerate new cells.
NERVE REPAIR™ INDICATIONS: Formulated from oils known to assist in repairing damaged nerves, stimulating circulation, and reducing inflammation, swelling, and cramps. NERVE REPAIR™ works on the parasympathetic nerves. It is a great pain reliever and helps in healing and repairing connective tissue that has been damaged. It is restorative, a stimulant for nerves, and assists in the regeneration and repair of new cells.
HOW TO USE NERVE REPAIR™: Designed for aromatic and topical use. If using topically, we recommend massaging 2 -3 drops into the area where the nerves have been damaged or apply a cold compress and relax for at least 15 minutes. For an earache, apply a couple of drops to  cotton and place in the ear. Massage on the shoulders, neck, across the forehead for  nervous stress and tension.  Always test on a nickel sized portion of skin first. Make sure your skin can handle the oil/blend before using.  Dilute to start or if any redness occurs.  For Aromatic Usage, hold the bottle under nose for 3 or 4 breaths.
WHEN TO USE NERVE REPAIR™: To aid with any pain or nerve damage, apply 2- 3 times daily or as needed.
NERVE REPAIR™ INGREDIENTS: Vibrant Blue Oils Symptom Support Nerve Repair™ blend contains a proprietary formulation of organic and/or wild crafted essential oils of Basil, Peppermint, Helichrysum italicum and Marjoram in a base of fractionated coconut oil.
NERVE REPAIR™ PRODUCT TIPS:
Useful for managing pain and healing from injuries
Helps with ear pain on flights
These statements have not been evaluated by the Food and Drug Administration. This product is not intended to diagnose, treat, cure or prevent any disease.
*You will be redirected to a third party website to make your purchase, but proceeds from your purchase still benefit the Who Is Carter Foundation.  Enter code BRAINPOSSIBLE10 at checkout for $10 off your order!