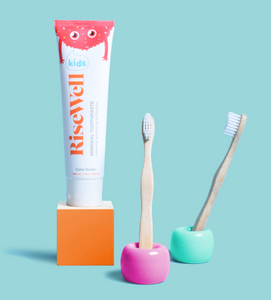 Who knew cake could be so good for your teeth? Risewell's new Cake Batter Kids Toothpaste is 100% natural, safe, and infused with hydroxyapatite which has been proven to naturally clean, whiten, and protect even your kids tiniest teeth!
It's like a party in your mouth! Not only does it taste like sneaking spoonfuls of cake batter straight out of the bowl, RiseWell natural toothpaste for kids is packed with our signature ingredient, hydroxyapatite, which is a naturally-occurring mineral that strengthens teeth. Daily usage will leave your kid's teeth visibly whiter, healthier, and stronger as their smiles grow and mature. And the best part? It's safe enough to eat—even if your kids (or you, wink wink) eat the whole delicious tube!
 May contain soy.
*You will be redirected to a third party website to make your purchase, but proceeds from your purchase still benefit the Who Is Carter Foundation.