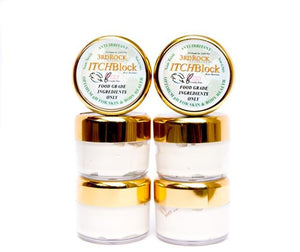 All Natural Itch Relief Cream: A soothing cream for active outdoor lifestyles and safe for all ages.
Using our patented 3rd Rock ZincBlock, a chelated zinc oxide complex, ITCHBlock provides instant relief effective for all types of itching associated with dry or irritated skin, insect bites, poison oak, poison ivy, and jelly fish (to name a few).

Food-grade edible, all natural, organic ingredients containing no endocrine-disruptors or toxins.
  *You will be redirected to a third party website to make your purchase, but proceeds from your purchase still benefit the Who Is Carter Foundation.