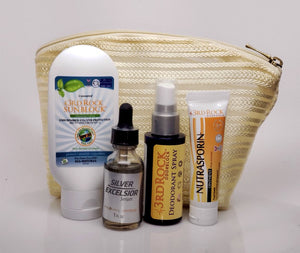 The HEALTH GIFT SET features SILVER EXCELSIOR SERUM, our concentrated 4000ppm chelated silver oxide solution.  This all natural 4 piece set includes our signature wellness products:
Nutrasporin® – Natural Silver Ointment – NEW Water Resistant version. Great for cracked lips, dry skin, burns and cuts.
ODORBlock Deodorant Spray– Paraben, Aluminum and Alcohol Free (Also great for throats, sinuses, and hands).
Silver Excelsior Serum - Concentrated 4000ppm Chelated Silver Oxide. Dilute for internal and external use.
3rd Rock SunBlock® Sunscreen (Unscented) – All Natural and Organic Zinc SPF 35 – America's safest sunscreen.
Receive a  golden off-white  zippered  bag that can be used to organize your health and beauty products at home or on the go. Lightweight mesh, with a braided pattern, this bag combines a versatile modern style with classic appeal. 3rd Rock Essentials has developed and offers an entire line of natural and organic personal care products. All ingredients are food grade edible and sourced from the best resources.

You will not find

 endocrine disruptors, parabens, GMOs or antibiotics here. Your skin is your largest organ. We believe that everything that you put on your skin should be safe enough to put in your mouth.
3rd Rock Essentials uses only food-grade ingredients in all of its products, thus ensuring you that our products are as natural and safe as they can be. Natural and safe does not mean that a product is less effective. All 3rd Rock Essentials skin and body products have been extensively reviewed by customers just like you. Check out their reviews! 100% made in the USA
  *You will be redirected to a third party website to make your purchase, but proceeds from your purchase still benefit the Who Is Carter Foundation.