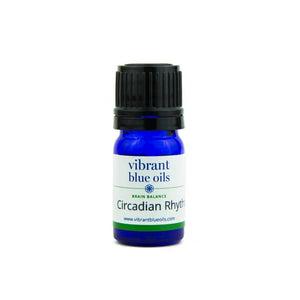 Struggling to fall or stay asleep? You might be physically exhausted, but your brain won't shut off.  So you lie awake, willing your brain to turn off so you can finally fall asleep. Your struggle ends right now.  Reach for a bottle of Circadian Rhythm®.
Circadian Rhythm® is an all-natural essential oil blend formulated to address the underlying root issue of your insomnia.

By using this sleep-inducing blend before bed, you'll support healthy pineal gland function, trigger the natural release of melatonin, turn down the production of cortisol at night, and slip into a deep, restful sleep night after night.
"My insomniac client began sleeping fully through the night the VERY FIRST time she started using the oils. She feels like a new woman."
HOW TO USE CIRCADIAN RHYTHM®: Designed for aromatic and topical use. If using topically, we recommend applying 2-3 drops to three different points on the head: the top of the ears on skull (both sides), the apex of the skull on top of the head, and the very back of the head (in the middle) before bed.
Always test on a nickel sized portion of skin first. Make sure your skin can handle the oil/blend before using. For aromatic usage, hold the bottle under nose for 3 or 4 breaths.
CIRCADIAN RHYTHM® INGREDIENTS: Circadian Rhythm® contains a proprietary blend of Rose Geranium, Grapefruit, Melaleuca, Myrtle, Lavender, Balsam of Peru, and Myrrh in a base of fractionated coconut oil.
These statements have not been evaluated by the Food and Drug Administration. This product is not intended to diagnose, treat, cure or prevent any disease.
*You will be redirected to a third party website to make your purchase, but proceeds from your purchase still benefit the Who Is Carter Foundation.   Enter code BRAINPOSSIBLE10 at checkout for $10 off your order!