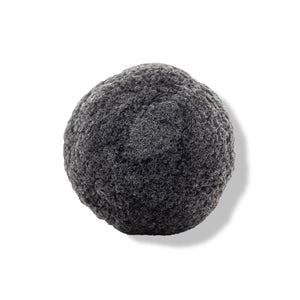 Detoxifying facial cleansing sponge draws dirt, oil, makeup, and environmental toxins away from skin while gently exfoliating for a softer, smoother complexion.

For All Skin Types
A facial cleansing sponge made from 2 simple ingredients: konjac plant and bamboo charcoal. This detoxifying sponge deeply cleanses the pores by drawing dirt, oil, and environmental toxins away from the skin. The soft, porous texture gently buffs away dead skin cells, bumps, and flakes for smoother skin. This gentle sponge is also suitable for sensitive skin types.
DIRECTIONS
Never use sponge when dry. Soak sponge in warm water to soften, then apply small amount of facial cleanser onto sponge. Squeeze sponge to activate lather. Massage this gentle sponge onto skin using circular motions, then rinse thoroughly when finished. Gently press between palms to strain water, and allow to air-dry.
Natural
Vegan
Cruelty Free
Gluten Free
*You will be redirected to a third party website to make your purchase, but proceeds from your purchase still benefit the Who Is Carter Foundation.