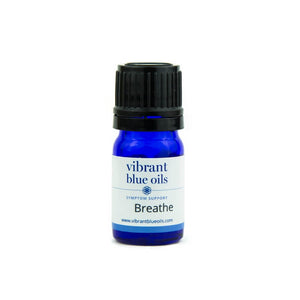 BREATHE™ BENEFITS:   Supports respiratory and cardiovascular systems. Reduces inflammation to support and relieve congestion, colds, flu, bronchitis, coughs, sore throats, sinus infections, pneumonia and asthma.
BREATHE™ INDICATIONS:  Breathe™ is designed to open and soothe airways and tissues of the respiratory system, loosen and expel mucus, reduce inflammation and stimulate the regeneration of lung tissue. Can be useful in situations when the ability to breathe easy is challenged:   allergies, asthma, bronchitis, colds, coughs, decongestant, expectorant, mucus, pneumonia,  respiratory inflammation and congestion, sinusitis, sore throat, lung infection, bacterial and viral infections as well as chronic   inflammation of the mucus membranes.  Also beneficial to those  who practice yoga, for use before pranayama (breathing exercises).
HOW TO USE BREATHE™: Designed for aromatic and topical use. If using topically, we recommend diluting with either castor oil, coconut oil or olive oil and rubbing 1- 2 drops  topically on throat and upper chest.   You can also put a few drops on the pillowcase for respiratory conditions or apply a hot wet towel compress to the lungs and throat areas and keep it on for about 15 minutes. Put a few drops on the pillowcase at night.  This oil can feel hot, so we do not recommend applying it undiluted to the skin.  For Aromatic Usage, hold the bottle under nose for 3 or 4 breaths.
WHEN TO USE BREATHE™: To aid with sore throats or breathing, apply 2- 3 times daily or as needed during the day or night.
BREATHE™ INGREDIENTS: Vibrant Blue Oils Symptom Support Breathe™ blend contains a proprietary formulation of organic and/or wild crafted essential oils of Eucalyptus citriodora, Eucalyptus radiata, Myrtle, Peppermint, Spruce, and Basil in a base of fractionated coconut oil.
BREATHE™ CAUTION: This blend contains several hot oils and should not be applied directly to the skin without diluting. Asthmatics may react to Eucalyptus globulus; use this blend with caution.
BREATHE™ PRODUCT TIPS:
Use to nip a sore throat in the bud. Apply diluted over throat and neck area.
Consider diluting with castor oil for greater healing impact.
These statements have not been evaluated by the Food and Drug Administration. This product is not intended to diagnose, treat, cure or prevent any disease.
*You will be redirected to a third party website to make your purchase, but proceeds from your purchase still benefit the Who Is Carter Foundation.   Enter code BRAINPOSSIBLE10 at checkout for $10 off your order!