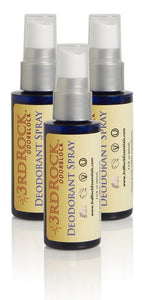 An all-natural non-aluminum deodorant, ODORBlock™ naturally fights body odor as well as, if not better than, conventional deodorants and antiperspirants.
There are aluminum and parabens in most antiperspirants, as well as the synthetic "fragrances" found in standard deodorants.  ODORBlock™ applies transparently — so it doesn't leave streaks on clothing — while the organic ingredients soothe and moisturize the skin as it eliminates a substrate for proliferation of odor causing bacteria. 

ODORBlock™'s patent-pending, all natural deodorant recipe is so safe even children can use the product without risking hormonal side effects!

Each 2oz spray bottle is sized to fit discreetly in a purse, pocket, or carry-on bag. Thanks to this convenience, you'll never again have to settle for dangerous, synthetic deodorants or antiperspirants, no matter whether at home or on the move.

As per its own self-imposed, rigorous standards, 3rd Rock Essentials has developed its food-grade ingredient only deodorant recipe without any animal testing, harmful chemicals and fragrances or endocrine disrupting chemicals. So why risk the possibility of toxins with your old deodorizer, when 3rd Rock ODORBlock™ offers an alternative! 

*Spray Your Mask* 
*You will be redirected to a third party website to make your purchase, but proceeds from your purchase still benefit the Who Is Carter Foundation.