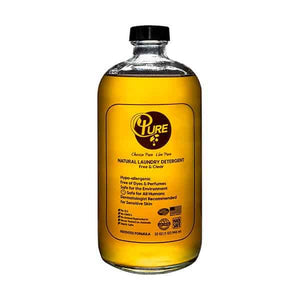 Pure Natural Laundry Detergent is the perfect natural laundry detergent formulated to be gentle on all skins and powerful on all clothes. The laundry detergent was the first of all Pure Natural products because of the demand that families and individuals had when dealing with sensitive skin and becoming itchy after they used other brands of laundry detergent. It's an easy to use formula that can be either scrubbed into clothing to pretreat stains or can also be added to loads of laundry and is safe for all washing machines including top load washing machines and HE washing machines.
The Pure Natural Laundry Detergent is not scented but may have a natural fragrance. The Pure Natural Laundry Detergent is hypo-allergenic, free from all dyes and perfumes, it is safe for your environment, safe for both children and animals and is dermatologist recommended for sensitive skins.
Color Variation to be expected as this is a natural product with no dyes.