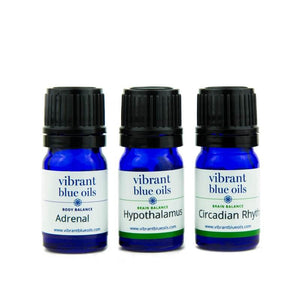 Vibrant Blue Oils Stress Support Kit™ contains three powerful oils – Adrenal Balance®, Hypothalamus™ and Circadian Rhythm® – that when used in combination with healthy lifestyle changes , helps support the body's systems of stress management.
Adrenals: The small, triangular-shaped adrenal glands situated on top of the kidneys, regulate the body's stress response by secreting key hormones, like cortisol and adrenaline (epinephrine) that regulate energy production and storage, control blood sugar, immune function, heart rate, muscle tone, and other processes that enable you to rapidly respond to stress. The health and resilience of the adrenals (along with the hypothalamus and hippocampus) help to determine our tolerance to stress. To keep your adrenals in tip top shape for all other healing to occur, consider Adrenal.
Hypothalamus: This pearl size region of the brain located just above the brainstem serves as control center for neural and hormonal messages received from/sent to body. The hypothalamus brings together the nervous system (electrical signals to communicate to nervous system) and the endocrine systems (hormonal signals) to oversee the body's homeostasis (internal balance). The ability of the hypothalamus to receive clear messages from the body is critical. All outgoing endocrine and neural signals are based on the clarity of these incoming signals. To optimize the vitality of the hypothalamus, consider Vibrant Blue Hypothalamus blend.
Circadian Rhythm: Our sleep/wake cycle, known as our circadian rhythm, requires the release of melatonin, a hormone crucial to sleep. Melatonin has an antagonist relationship to the stress hormone cortisol and the two hormones in conjunction help regulate our circadian rhythms. This means that when cortisol is high, melatonin is low. Chronic and prolonged stress triggers the adrenal glands to release cortisol and throws off the body's natural cortisol/melatonin rhythm. Cortisol should be high in the mornings when you wake up and gradually taper off throughout the day so you feel tired at bedtime and can fall asleep. High levels of cortisol at night, drive down melatonin and make it difficult to fall asleep. To put the circadian rhythm back in balance, you might consider Vibrant Blue Oils Circadian Rhythm blend, which triggers the natural release of melatonin.
These statements have not been evaluated by the Food and Drug Administration. This product is not intended to diagnose, treat, cure or prevent any disease.
*You will be redirected to a third party website to make your purchase, but proceeds from your purchase still benefit the Who Is Carter Foundation.   Enter code BRAINPOSSIBLE10 at checkout for $10 off your order!