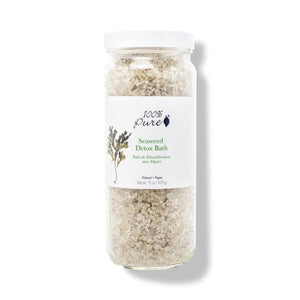 For All Skin Types
This deeply therapeutic and artisanally crafted bath salt blend is designed to detoxify and stimulate circulation. Made with ginger root, seaweed, and dandelion to draw out toxins, heavy metals, and stimulate lymphatic drainage. Infusions of eucalyptus, tea tree, and rosemary increase circulation while providing relaxing aromatherapeutic benefits. Our nourishing bath salts are made with crystallized kelp from an organic seaweed farm on the Brittany coast of France. This detoxifying bath soak contains dozens of therapeutic trace elements from the sea – replenishing minerals, vitamins, antioxidants, and amino acids. 
DIRECTIONS
Pour 1/2 cup of salts into a warm or comfortably hot bath, then stir into water until dissolved. While soaking, take slow, deep breaths to fully enjoy the aromatherapeutic experience.
Natural
Vegan
Cruelty Free
Gluten Free
Made in the USA
*You will be redirected to a third party website to make your purchase, but proceeds from your purchase still benefit the Who Is Carter Foundation.